Netgear has revealed its first Wi-Fi 7 router, and while we've seen other such models from rival manufacturers, this is different in that it's actually priced and up for pre-order.
The Netgear Nighthawk RS700 is available to pre-order direct from the company priced at $699.99 (around £575, AU$1,050) – you didn't think it would be cheap, now, did you? – with routers shipping in Q2 in the US (possibly as early as April).
The Nighthawk RS700 router packs Wi-Fi 7 (802.11be) support, meaning you'll be able to benefit from this next-gen wireless standard – at least in the future (we'll come back to the ins and outs of that shortly).
Wi-Fi 7 makes some important advancements over Wi-Fi 6 (and 6E), ushering in big leaps in Wi-Fi speeds, lower latency, and improved range. In short, it's all-around better for performance and reliability (and a lot faster than Wi-Fi 6).
On the technical side, the Nighthawk RS700 is a tri-band router boasting speeds of up to 19Gbps and coverage of 3,500 square feet, supporting up to 200 devices. On top of Wi-Fi 7 for wireless – across 2.4GHz, 5GHz, and 6GHz bands – Netgear provides four 1Gbps LAN ports, and one 10Gbps LAN port, for wired connections.
The RS700 comes in a tower design that looks pretty smart, we think, and you can also hook up multiple units together if you want to go the mesh network route to cover a really big house with Wi-Fi signal.
Netgear is also implementing a system whereby there isn't just the option to add a guest network for visitors alongside the main network. You'll also be able to have a priority network to get the most responsive, fastest connections for gaming devices or streaming. Furthermore, an IoT (Internet of Things) network will be there to silo away your smart home gadgets, keeping them separate in case you're worried about the security issues bound up with that sort of hardware.
Also worth mentioning on the security front is that included in the price tag is a year of Netgear Armor, the Bitdefender-powered security solution.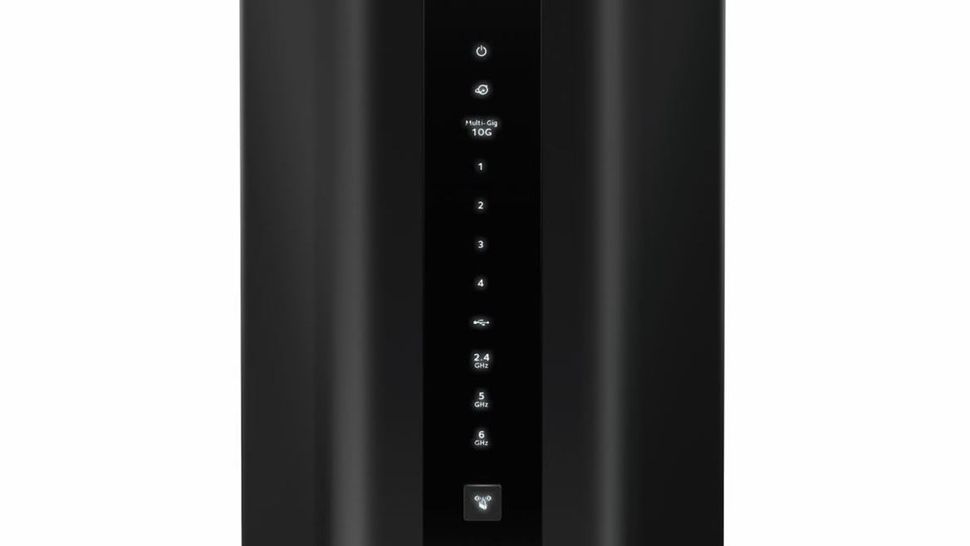 ---
Analysis: To future-proof, or, erm, to not
When new technology comes out, it's inevitably expensive, and that can lead to tricky buying decisions. Do you want to fork out all that cash to get on any particular bandwagon with a new device? With Wi-Fi routers, though, these early adopter decisions are even more complex, because hardware comes out before standards are actually fully in place.
What does that mean? Well, officially Wi-Fi 7 is still just a draft standard, and it won't be officially set in stone until 2024 (most likely). And that's precisely why other router makers may have revealed models, but they aren't available or even priced yet. TP-Link has a fair few Wi-Fi 7 models already unveiled, but they're all marked as 'coming soon' (Asus has a couple, too).
Netgear is the first manufacturer to actually price up and put a Wi-Fi 7 router on sale so you can buy it today – although it won't ship for at least a month yet, possibly not until June. So, do you really need to pull the trigger and buy right now?
The short answer is: no, probably not. Read on for a more in-depth explanation.
Where's the support?
First off, we should make it clear that there's nothing wrong with bringing out a Wi-Fi 7 router relatively early, in so much as even though 802.11be remains a draft wireless standard, Wi-Fi 7 is pretty much done and dusted, and won't be meaningfully changed at this point.
The key point to realize here, though, is an obvious one: you can have a Wi-Fi 7 router, but if your devices don't support Wi-Fi 7 – your phones, tablets, laptops, and whatever else – then they can't use this cutting-edge wireless standard. And yep, you guessed it – it's still so early days for Wi-Fi 7 that barely any devices support it. (The only one we're aware of so far is the Xiaomi 13 Pro smartphone, although there may be other Chinese handsets that do).
So, a Wi-Fi 7 router is pointless for the vast majority of folks, then? Well, not quite, because it is backward compatible with all your existing devices, and could still run them like a dream (just not at Wi-Fi 7 speeds). What you're getting with a Wi-Fi 7 router is future-proofing – use it with all your devices now, and eventually, as you buy Wi-Fi 7 hardware, you'll get the full benefit.
The thinking is that if you need a new router anyway, perhaps because your current model has taken that final trip to silicon heaven, you're spending money, so why not look to the future?
The problem with the Netgear Nighthawk RS700 is that you're obviously splashing a lot of cash – $700 is no small expenditure. That's enough to buy you a PC (a modest desktop, anyway). Is it wise to pay quite such a premium?
Not at this relatively early stage, we'd argue. Even if you need to replace your router, we'd advise at least considering getting a stopgap Wi-Fi 6 model for a relatively affordable outlay. Then sell that second-hand when Wi-Fi 7 fully arrives (and we start to see a meaningful number of devices supporting it), before upgrading to a Wi-Fi 7 router, which by that time will be more reasonably priced.
Still, all that said, if money's no object, there's no harm in getting future-proofed at this point in time, and this Netgear router does look pretty tasty.