A few months after a fairly quiet launch, adoption of the Matter home standard is ramping up as more companies hop on the bandwagon. This time, smart lighting brand GE Lighting has revealed its first set of home accessories supporting Matter that will launch throughout 2023.
All the lighting products will roll out under the Cync brand name (opens in new tab) with the first set being new additions to the Dynamic Effects line. You have four in total: the Dynamic Effects Smart Hexagon Panels (which are hexagonal light fixtures you can stick on a wall), Smart Neon-Shape Lights, also referred to as Neon Rope, and two types of Smart Bulbs. The first is your standard aline-shaped bulb meant for general use while the other is an indoor floodlight. 
Each light can be controlled via the official Cync app (opens in new tab) to show off "multi-color light shows, on-device music syncing, and vivid light effects that [can] display [up to] 16 million colors…" Plus, they can all display multiple colors at the same time.
The Neon Rope looks like a typical light strip on the surface, but it's rigidity allows it to be bent in whatever shape for decoration. As much as you can do with the length you're given, that is, as the Neon Rope comes in two sizes (10 and 16 feet). It can also be controlled through either Amazon Alexa or Google Assistant if you don't want to use the app. This form of control is thanks to Matter's increased interoperability compared to older standards.
The new Dynamic Effects lights are set to launch March 2023 with prices starting at $19.99 going up to $199.99.
More products later in the year
Apart from Dynamic Effects, GE Lighting is also launching one other smart light: the disk-shaped HD Plus Wafer Downlights, which can also display 16 million colors. With a more "slim profile", these lights are meant to go pretty much anywhere you can place them.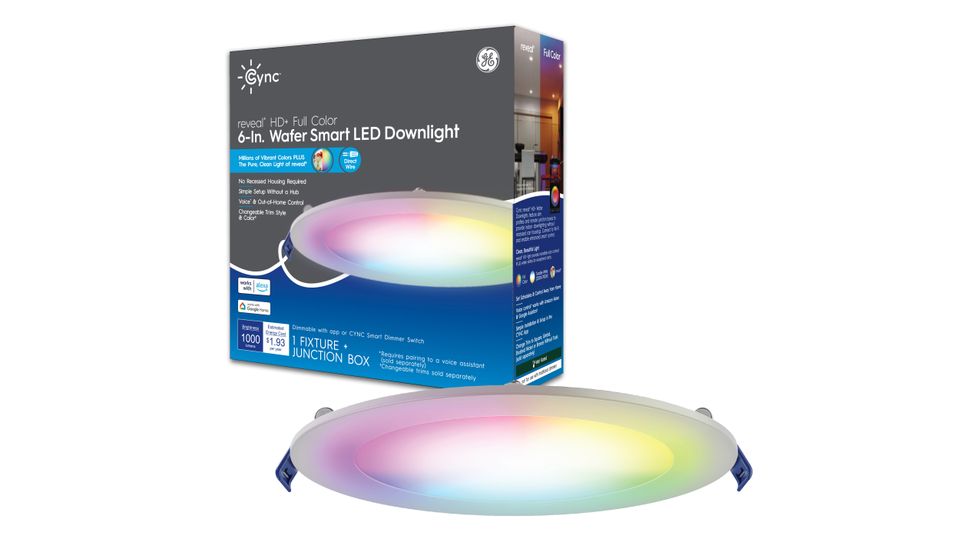 To help with installation, the Wafer lights will come with a "wall wash trim" for easier integration and a mounting template, according to the announcement. Don't expect the Wafer lights to be on store shelves any time soon. They're slated to launch sometime in the third quarter of 2023 with the official price tag to be revealed later on.
The company has plans to launch upgraded versions of past products that will support the Matter standard throughout the year such as the Cync Indoor Smart Plug. Older Cync products, however, will not get a firmware update to give them Matter support. You'll need to buy the newer versions if you own one of a device from the previous generation.
If you're interested in sprucing up your home with Matter-enabled lighting, be sure to check out our recently updated smart lights list for 2023 featuring Philips Hue and Nanoleaf. And speaking of Nanoleaf, the company revealed its new Sense Plus Control product line (opens in new tab)at CES 2023, which apparently can "learn" a family's routine in order to automatically control the lights according to their needs.